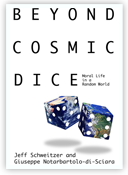 Beyond Cosmic Dice: Moral Life in a Random World

Dr. Jeff Schweitzer and Giuseppe
Nortarbartolo-di-Sciara

Morality is our biological destiny. We each have within us the awesome power to create our own meaning in life, our own sense of purpose, our own destiny. With a natural ethic we are able to move beyond the random hand of birth to pave our own road to a better life. Whereas religion claims that happiness is found from submission to a higher power, a natural ethic defines happiness as the freedom to discover within ourselves our inherent good, and then to act on that better instinct, not because of any mandate from above or in obedience to the Bible, but because we can. With the ability to choose to be good comes the obligation to make that choice; choosing to be moral is what makes us special as individuals and as a species.
With a natural ethic we free ourselves from the arbitrary and destructive constraints of divine interference to create a path toward a full life for which we ourselves are responsible.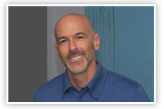 Jeff Schweitzer
is an internationally recognized authority in bridging science, conservation, development and ethics. He has been a guest speaker at dozens of international conferences in Asia, Russia, Europe and across the United States. He is a neurophysiologist and evolutionary biologists with a doctorate from Scripps Institution of Oceanography, University of California, San Diego. Jeff's academic work focused on the neurobiology and evolution of sensory systems in marine animals.
He served for three years as the Assistant Director for International Science and Technology at theWhite House, in the first Clinton Administration.
He was the founder of the multi-agency International Cooperative Biodiversity Group Program, which promotes the conservation of biodiversity through rational economic use of natural resources.
next
He was instrumental in establishing the permanent Global Forum on Science and Technology at the Organization for Economic Cooperation and Development to promote greater international scientific collaboration.
He has published more than 200 articles in an eclectic range of fields, including neurobiology, marine science, international development, environmental protection and aviation. Jeff continues to publish on a diverse range of topics relating to science, religion ethics and the environment.
back
Giuseppe Notarbartolo di Sciara
is an evolutionary biologist with a doctorate from the University of California.
He serves as a marine policy advisor to various national and international bodies, and has recently represented Italy in multilateral environmental negotiations.
Through appearances on television and radio, and the publication of articles and books, he has been striving to increase public awareness of marine conservation. Giuseppe lives with his family in Northern Italy.