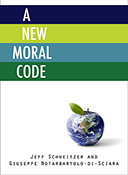 A NEW MORAL CODE

Dr. Jeff Schweitzer and Giuseppe Nortarbartolo-di-Sciara

In a confusing world in which faith no longer satisfies, The New Moral Code paves a clear path to happiness and fulfillment. The authors provide simple and easy steps to free you from the angst of today's modern society. Learn to shed the burden of expectation created by others and pave your own road to a meaningful life of deep contentment.
---
" This is the book that ties it all together – the problems that religion creates in solving our looming problems, and the unholy environmental mess we're in. I'd say that someday we're going to have to listen to this man, but the truth is, that day is NOW."
- Bill Maher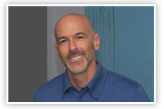 Jeff Schweitzer
is an internationally recognized authority in bridging science, conservation, development and ethics. He has been a guest speaker at dozens of international conferences in Asia, Russia, Europe and across the United States. He is a neurophysiologist and evolutionary biologists with a doctorate from Scripps Institution of Oceanography, University of California, San Diego. Jeff's academic work focused on the neurobiology and evolution of sensory systems in marine animals.
He served for three years as the Assistant Director for International Science and Technology at theWhite House, in the first Clinton Administration.
He was the founder of the multi-agency International Cooperative Biodiversity Group Program, which promotes the conservation of biodiversity through rational economic use of natural resources.
next
He was instrumental in establishing the permanent Global Forum on Science and Technology at the Organization for Economic Cooperation and Development to promote greater international scientific collaboration.
He has published more than 200 articles in an eclectic range of fields, including neurobiology, marine science, international development, environmental protection and aviation. Jeff continues to publish on a diverse range of topics relating to science, religion ethics and the environment.
back
Giuseppe Notarbartolo di Sciara
is an evolutionary biologist with a doctorate from the University of California.
He serves as a marine policy advisor to various national and international bodies, and has recently represented Italy in multilateral environmental negotiations.
Through appearances on television and radio, and the publication of articles and books, he has been striving to increase public awareness of marine conservation. Giuseppe lives with his family in Northern Italy.