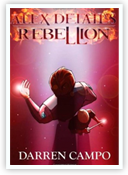 "Alex Detail's Rebellion" The sequel to
"Alex Detail's Revolution"

Darren Campo

Alex Detail is being assassinated.Again. The second Harvester war has ended, but Alex has never been in greater peril. Not only is Alex being hunted by his deadly clone, the seven-year-old George Spell, he is also the target of a House of Nations plot to expose Alex's post-war experiments with The Harvesters and disgrace the genius war hero. But when George Spell's latest attempt to assassinate Alex Detail at the New York planetarium nearly kills hundreds of people, Alex escapes death only to find his would-be assassin suddenly kidnapped by the powerful mystic, Brother Lonadoon.
Now Alex must join Captain Odessa on a covert interplanetary rescue operation where they uncover clues left thousands of years ago by an ancient race desperately trying to send a message to the future. But the message might be too late, as phenomena are revealing the beginnings of an extinction level event caused by the ongoing war between Alex Detail and George Spell, one that could lead to the destruction of the entire solar system.
Darren Campo

Expertise:

Television Producer and Executive, Author
Darren Campo's savvy creative instinct has led him to run one of the most popular programming divisions in cable network television. His philosophical ingenuity and storytelling ability has fostered one of the most intriguing literary stories written in "Alex Detail's Revolution." As a television producer and executive, Darren is verse in developing all genres of content.
Currently, Darren oversees one of the industry's largest original production operations at truTV. Just prior to the launch of truTV, Multichannel News named Darren Campo one of "40 Under 40" to watch.
But Darren's fare for content can ride the wave from "Operation Repo" to drawing on inspirations for his own creative writing from Schopenhauer, Nietzsche and Joseph Campbell to create the epic adventure and story of intrigue that Alex Detail takes.
next
As Darren invokes Campbell's take on Schopenhauer, "In an essay Schopenhauer says that, 'In looking back at your life, it was as though composed by some novelist. So who composed that plot? Just as your dreams are composed by an aspect of yourself of which your consciousness is unaware, so, too, your whole life is composed by the will within you.
People meet by chance becoming leading agents in the structure of your life, so, too, will you have served unknowingly as an agent, giving meaning to the lives of others.' The whole thing gears together like one big symphony, with everything unconsciously structuring everything else."
Early critique of Darren's first published novel, "Alex Detail's Revolution" has been cited as a work of 'activation', not unlike thematic nerve struck by Dan Brown's Da Vinci Code.
Darren also spent four years working at CBS where he was involved in the production of the station group's syndicated programming and news.
back
Campo has written several humorous articles regarding the way audiences consume media and the techniques used to measure them, including "Mommy, Where do Nielsens Come From?"
Campo graduated from the Stern School of Business at N.Y.U. with degrees in marketing and industrial relations. Campo is an adjunct professor at his alma mater, the NYU Stern School of Business, where he teaches "The Business of Producing."